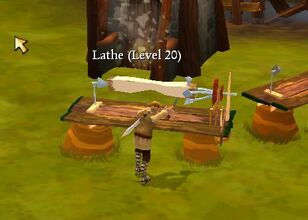 Woodcrafting is a very useful skill used mostly for making weapons for Wizards, Hunters and Priests; and shields for Warriors and Priests. It also makes ingredients used in other crafting skills such as Blacksmithing.
Woodcrafting requires a chisel, some sort of wood and other miscellaneous ingredients if you are crafting shields or weapons. Woodcrafting takes place at a lathe. During woodcrafting your player places a block of wood on the lathe and spins it around cutting away at it slowly.
Several special recipes require the use of lathe.
Video Walkthrough: How to level up fast
Refined
Bows
Staffs
Maces
Shields
Special

|}
Miscellaneous
Buffs
Signets
Chisels
Chests
Trending pages
All items (322)